Miss Annity is a spider woman who captures people who "don't fit into society"
Appearance
Edit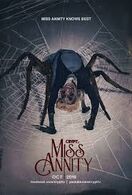 Miss Annity takes the appearance of her past self, with blonde, curled hair and a sort of old timey attire. But she also has six eyes, a large mouth and six additional arachnoid legs.
The original Ms. Annity published a book of arcane "life lessons", including girls always being skinny and fathers working in an office instead of at home. This lead to immediate backlash, and then to her apparent suicide. How Miss Annity came back is unknown.
Miss Annity first bite a victim, causing them to become weak to her. She then kills them swiftly, followed by her dragging them to her lair where she turns her victims into puppets on spider strings
Weakness
Edit
One way to fight Miss Annity would be to embrace your differences and accept that no one's perfect(my interpretation)
Miss Annity's philosophy is the exact opposite of the Look-See's: The Look-See's philosophy is to let go of the past, while Miss Annity's is to bring the past back
Community content is available under
CC-BY-SA
unless otherwise noted.